Truth Is Our First Ingredient
Ingredients you can trust, for your most trusted friend.
Honest, human-grade, cooked right here in the USA.
Human grade
Start with 100% Human-Grade ingredients. In other words, real chicken breast, rosemary, blueberries. Things you find in a grocery store and likely eat yourself.
Made in the USA
Source those ingredients responsibly from family farms in the USA and take them to a USDA inspected kitchen that also happens to make delicious food for humans.
Small Batches
Cook in small batches using time honored techniques like dehydration instead of high heat thermal extrusion or other weird stuff. It's not complicated, it's just the right thing to do.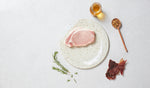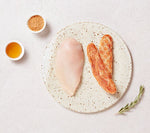 Nothing to Hide, Everything to Share
Human-grade ingredients from family farms means our treats look, smell, and even taste like real food. Go ahead, try one if you don't believe us.
Good Food Made by Good People
Full Moon is the result of changing virtually everything about how pet products are made so they can be free of fillers and low-grade meat. Learn about our story and the people behind it.