Welcome To The New Age of Food
The first food for dogs that looks, smells, and tastes like you made it. Experience the difference with our new superfood-packed recipes.
Learn More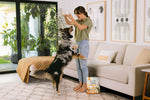 Crafted with 100% human grade ingredients and high-quality whole protein. Easy to pour and thaw in minutes, so you can spend more time playing and less time prepping.